Search Engine Marketing
above the top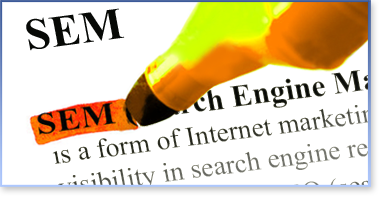 It is increasingly important to do search engine marketing nowadays, therefore it is more important than ever to manage your campaigns efficiently and creatively. We only strategise and implement an SEM campaign garnered from best practices principles and industry perspective.
Different from other forms of marketing, SEM campaigns can accurately calculate how much it costs to generate a lead or to make a sale. Throughout the operation, we fine-tune ongoing campaigns and employ meticulous A/B testing, continually maximizing ROI for our clients.
Pay per click (PPC) advertising
We create targeted campaigns for you. How? By generating relevant keywords, examining competitor activity, writing targeted ad copy, removing negative phrases and monitoring results to ensure maximum return-on-investment (ROI). We monitor your account everyday: adjusting keyword bids to achieve the right balance between CPC and CTR; optimising landing pages to improve conversion; removing under-performing keywords/adverts and providing regular reports.
Advertisers only pay when their advertisements are clicked and a visitor is directed to their site. We will quantify how many of the users requested information, subscribed or made a purchase etc and as a result, giving us a direct ROI.